Deer Park

High School




Class Of 1959
Welcome to the Deer Park High Class Of 1959 web site. Thanks for visiting, and we hope you'll sign up now and create a rich profile about your life since we graduated in 1959. Add some pictures, too. Just click on Classmate Profiles in the left column, then click on your name and go!
ANNOUNCEMENTS
---
Class of '59 Monthly Luncheon
The Luncheons are normally held on the 3rd Tuesday of each month. Our next monthly Class of '59 Luncheon will be Tuesday, Feb 20, 2018 at 11:30am in the Pub Room at SLATTS PUB. Slatts is located at 4858 Cooper Rd., just east of Kenwood Rd. in Blue Ash, OH. Visit their web site (www.slattspub.com) to see their menu and for directions/map.
---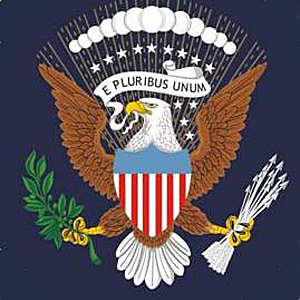 The Seal of the President of the United States
The Seal of the President looks much like the Great Seal of the United States. The difference is in the "crest" above the bald eagle, where the cloud puffs and (most) stars fan upward in an arc. On the Great Seal, the constellation of stars is surrounded by the cloud puffs.

Whereas most seals of the federal government were created by statute, the Seal of the President was determined by use and custom. Beginning with President Hayes in 1877, the eagle on the presidential seal traditionally faced the bundle of arrows in its left talon. A good example of this old seal is carved on the President's desk.

On October 25, 1945, President Truman signed Executive Order No. 9646 that legally specified the design of the President's seal and flag. A press release was issued to call attention to the new design:

"In the new Coat of Arms, Seal and Flag, the Eagle not only faces to its right – the direction of honor – but also toward the olive branches of peace which it holds in its right talon. Formerly the eagle faced toward the arrows in its left talon – arrows, symbolic of war."

In heraldry, the imagery on the shield's right side (the left side from our point of view) has more importance than the one on its left. The official 1782 description of the Great Seal specifically says the olive branch is held in the eagle's right talon.

Heraldic birds traditionally look to their right, unless otherwise specified, and Charles Thomson's preliminary sketch and all dies of the Great Seal have shown the eagle facing its right side with the olive branch which the founders said symbolizes "the power of peace."
Three Great Seal dies have been discovered that are identical to
the Dorsett Seal die associated with George Washington.