In Memory
Judith Kranich (Blanchard)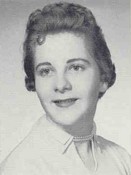 CADILLAC - Judith M. Blanchard of Cadillac died Dec. 3, 2009 at Mercy Hospital in Cadillac. She was 68.
She was born Feb. 24, 1941 in Michigan to William A. and Barbara Kranich. She married Ronald J. Blanchard June 9, 1962, and he preceded her in death Aug. 26, 2009.
She was a homemaker and along with her husband, Ron, owned and operated Ron's Beverage Dock in Cadillac for a number of years.
She is survived by her daughter, Karen (James) Helton of Cincinnati, Ohio.
A memorial service will take place at 11 a.m. Saturday, Dec. 5, 2009 at Peterson Funeral Home, Cadillac, with Rev. Rich Langton officiating. Visitation will take place just prior to service time.
Memorial contributions can be made to the Kidney Foundation. Envelopes are available at the funeral home.